A very pleasant dental visit experience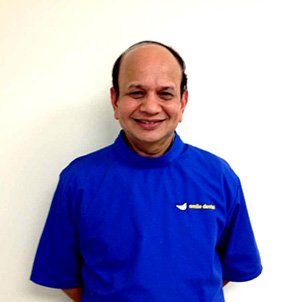 "I made an appointment at Ranui and saw Dr Nanda Lal Warusevitane for the first time. I was in a lot of pain and he was friendly, sympathetic and professional. He explained his treatment plan and what each part of it would cost. He also told me what he thought was absolutely essential to do that day and what I could make appointments for in the future.

He is the first dentist I have ever seen that wasn't angry at me for having gum disease and having neglected my dental visits. When you go to the dentist it is painful, expensive and often the dentist treats you like a naughty child – he was not patronizing at all. Thank you Dr Warusevitane for a very pleasant dental experience."

Dentist Introduction – Dr. Nanda Lal Warusevitane

Dr.Nanda graduated from University of Ceylon,Sri Lanka,he was later conferred FICCDE. Practising in New Zealand since 2006 after obtaining NZ registration. He is committed to treat his patients with care & understanding.Dr.Nanda has a wide range of experience in extractions, surgical extractions,wisdom teeth removal & prosthodontics work.

Dr.Nanda is working with Smile Dental for the last nine years based in West Auckland (Henderson & Ranui Branches).