---
---
A denture is basically a removable appliance that is used for replacing a missing tooth and the surrounding tissue. Dentures are always custom made that are designed according to the needs of a mouth. They help in creating a natural smile for people with defective teeth.
Past vs Present
The main question remains is what type of dentures do you need? As already mentioned earlier, the dentures are designed according to the needs of patients. In the past however, dentures were quite heavy and bulky. The newer technology has enabled dentists to provide a perfectly beautiful smile with the help of lightweight materials. The present dentures are lighter and even more natural than ever.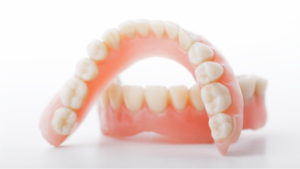 Partial and Complete Dentures
Both partial and complete denture services are provided by Smile Dental. The complete dentures are used in cases where a person is missing every tooth in his or her mouth. A Partial denture is used in cases where a person is missing just one or a few teeth. 
In case of a complete denture, the process can be either immediate or conventional. This process is applicable when the teeth have been removed and when the gum beneath has completely healed. The conventional denture can be processed weeks after all teeth have been removed.
Immediate dentures, unlike the conventional ones are made in advance and have the ability to be positioned as soon as the teeth have been removed from the
mouth. The wearer in fact does not even have to be without teeth during the gum healing period.
What's the implant denture?
The implant is a metal frame or post embedded through surgery into the jawbone under the gums. Implant Dentists at Smile Dental can fix the replacement teeth once these are in position.The main benefit is the implant is done to appear like a natural tooth. The crown (artificial tooth) is shaped so it is similar to a genuine tooth. It is not easy to differentiate implants from normal teeth even if you look at them closely. Another benefit is dental implants are long lasting. False teeth require replacing every 7 to 10 years but the implant is a permanent denture since it is attached to the mouth. Learn more

Taking Care of Dentures
It is actually very easy to take care of dentures. You will need to clean them every day with warm water to prevent warping. There are many clinic products to clean dentures. There are even electronic denture baths that are pretty economical.