Today's Orthodontic Treatment: Comfortable, Convenient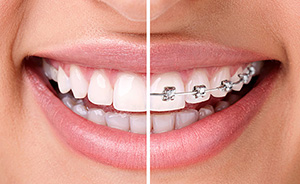 Today's Orthodontic Treatment: Comfortable, Convenient.
Brace yourself: As a result of innovations in orthodontic materials, Orthodontists and Dentists are able to provide today's patients with a convenient and comfortable experience while working toward the ultimate goal of a gorgeous smile, a better bite, and improved facial appearance.
Traditional braces, a combination of brackets and wires, have moved into the 21st century. Metal brackets are smaller and less conspicuous; tooth-colored brackets blend with the color of teeth. Patients benefit from the use of NASA-developed technology: advanced "space-age" wires with built-in memory. The wires, which actually move the teeth under the Orthodontist's or Dentist's supervision, deliver a light, continuous pressure. When they reach mouth temperature, the wires become active and "remember" their original shape. As the wires attempt to return to that shape, they gently guide the teeth into their correct positions.
When compared to materials used as recently as a decade ago, today's high-tech materials can result in fewer frequent appointments, so patients require less time away from school or work, and the treatment time may be shorter.
Teeth tend to drift as people mature. Even those who were born with perfectly placed teeth can experience these unwanted changes. Many consult an Orthodontist or Dentist to rejuvenate their smile and get a healthy bite. Between 1994 and 2004, the number of adult patients grew by 37 percent. An estimated 63 percent of adult patients are women.
Both children and adults can benefit from orthodontic treatment. The introduction of clear braces and behind-the-teeth braces makes correcting malocclusions a realistic option for everyone. According to the American Association of Orthodontists (AAO), more than 5 million people in the U.S. and Canada are receiving care from them. More than 1 million of these orthodontic patients are adults. Many are in their 40s, 50s and beyond.

A number of Smile Dental practices offer orthodontic treatment (CBD, Albany, Sylvia Park and Henderson branches). These Smile Dental Dentists with a special interest in orthodontics offer a variety of different types of braces, including traditional metal braces, Damon braces, and white or clear braces. A select number of our Dentists also offer Invisalign, a virtually invisible alternative to braces.
View more information about Orthodontics, click here.