ClinCheck® Software.
Customised 3D treatment plan
Visualise your treatment plan including the progressive movements and your expected final position of your teeth
3D computer imaging technology allows for precise and effective treatment
Individually customised for a more comfortable fit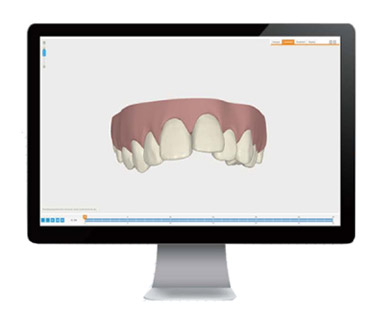 Treatment Process
You and your doctor have decided that Invisalign treatment is right for you. What comes next?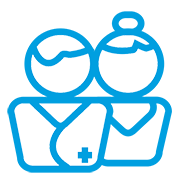 Step 1
---
Dental records are taken (e.g. photos, X-rays, intra-oral scans and/or impressions)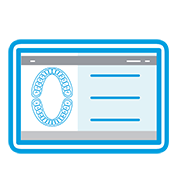 Step 2
---
Your individual 3D treatment plan is created using your records and treatment prescription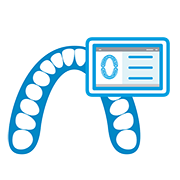 Step 3
---
A series of custom-made aligners are made using advanced 3D computer imaging printing technology. Your aligners are shipped to this dental practice, and we will contact you to make your first aligner-fitting appointment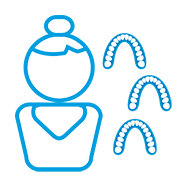 Step 4
---
You will be fitted with your aligners and given 3-4 sets to take home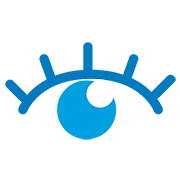 Step 5
---
At check ups every 6 – 8 weeks, your doctor will give you the next 3 – 4 aligners in the series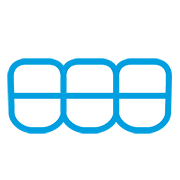 Step 6
---
You will be fitted for retainers, which will help protect your new smile by holding your teeth in their new position
Treatment Duration
The Invisalign System is the clear way to a beautiful smile

Wear for
20-22 hrs/day
Remove to eat,
brush and floss
Replace to next aligner
every 1-2 weeks
What to expect during treatment
The SmartTrack® aligner material, SmartForce® features and SmartStage® Technology have been specifically designed to optimise tooth movement control and aligner-patient fit.
All patients
---
Additional aligners
Retention at the end of treatment
Compliance indicator and eruption tabs
In some cases
---
Elastics (a)
Attachments (b)
– Size, position, quantity vary from patient to patient
Bite ramps
Polishing / contouring
Power Ridge Features
If you need an extraction, your aligner will conceal the space (c)