2013 Auckland Central Business Awards – Excellence in Business Leadership
Smile Dental and Dr. Jacky Lam win Auckland Central Business Award.
Smile Dental Sylvia Park has won the 'Excellence in Retail', sponsored by The New Zealand Herald and Founder / Clinical Director of Smile Dental, Dr. Jacky Lam has won the 'Excellence in Business Leadership', sponsored by Marsh at the Westpac Auckland Central Business Awards, presented by Auckland Chamber of Commerce.
More than 400 people last night attended the gala ceremony to celebrate central Auckland business success.
The Awards celebrate excellence in eight areas of business performance –Innovation, Exporting, Service Delivery, Best Emerging Business, Marketing,Business Leadership, Workplace Safety and Retail. This year the Awards attracted fantastic entries across all categories.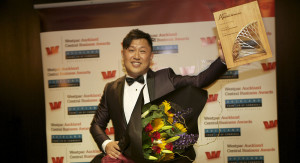 This was the third year Auckland central businesses had the opportunity toshowcase their success after Auckland Chamber of Commerce initiated the awardsin 2011.
Chamber chief executive Michael Barnett said entries for the 2013 awards were of an extremely high standard. "The awards are a vital part of building business growth in central Auckland and celebrate the passion and achievements of these businesses.
"Auckland central businesses are thriving and Auckland Chamber of Commerce is delighted to present these awards to showcase the innovative and creative firms which create jobs, increase economic prosperity and bring vibrancy to the city."
Mr Barnett says the range of the companies which entered, and which have won awards, highlights the diversity of the city's businesses.
Mr Barnett added that for many businesses, entering the Awards provided an opportunity for businesses to review their performance and identify their business strengths and weaknesses in order to experience business growth.
"We congratulate all the winners on their achievements in these awards and I hope that those who were unsuccessful will learn from the experience and enter again next year."
View more about Dr. Jacky Lam.